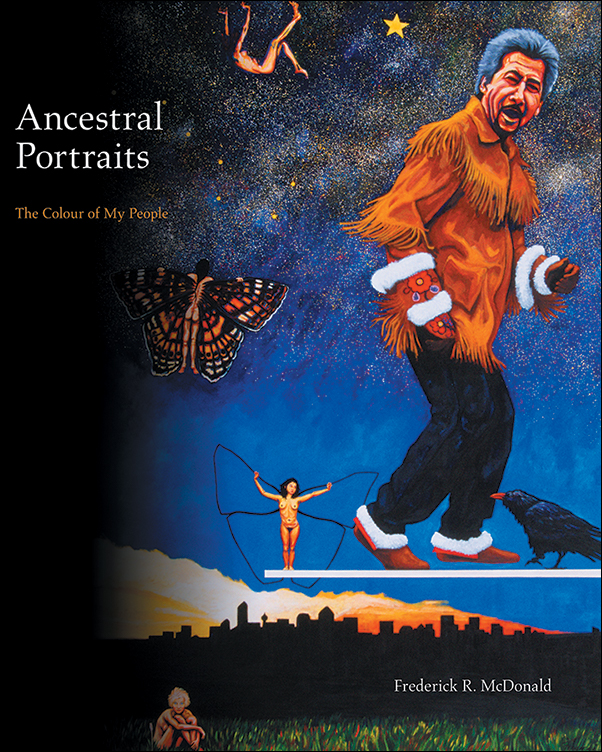 Ancestral Portraits: The Colour of My People
---
Frederick R. McDonald
$29.95 CAD / $34.95 USD (S)
105 pages, 61 illustrations
8 x 10 inches
978-1-55238-064-2 (Paperback)
978-1-55238-282-0 (Institutional PDF)
April 2002
About the Book
A celebration of the life and work of one of Alberta's most exciting working Indigenous artists.
Ancestral Portraits is a retrospective of the art and life of Frederick R. McDonald, one of Alberta's most exciting Indigenous artists working today, and a celebration of a rich Cree heritage. With one foot in the world of his ancestral peoples and the other in the realm of contemporary Canadian society, McDonald paints from a unique perspective and uses his art to communicate the culture and spirituality of his ancestors.
Ancestral Portraits is a journey into the creative world and distinct mind of one of Canada's most exciting Indigenous artists.
About the Author:
Frederick R. McDonald is a Woodland Cree painter born in Fort McMurray, Alberta. In his early years, he lived along the Athabasca River following the traditional ways of his ancestors. He worked in the oil industry and achieved an MFA from the University of Calgary. His work is concerned with the written and visual history of his people in Canada.
Praise for Ancestral Portraits:
Vivid . . . [McDonald's] voice and brush are worth heeding.
—Francis W. Kaye, University of Toronto Quarterly
Fred's work captures the essence of the brush economy in the homelands of the Fort McKay people in northeastern Alberta. He paints with a chromatic true vision that cuts to the bone.The narrative spine of his work is like the Athabasca River, rich in content, fast flowing and never ending.
—Mike Robinson, President and CEO, Glenbow Museum
Table of Contents

Preface

Acknowledgements

In the Beginning

In the beginning, there are only thoughts

Thoughts on First Nations Art, Some on Politics

Influences 1: My Grandfather, My Brother, and a River

Influinces 2: High School and Beyond

On the Art of Travelling

Worldly Encounters 1: Canada

Worldly Encounters 2: Australia

Segregations⁄Reservations On Personal Promises

Indians First …

.. Then Commerce

Of Colour and Light

In the End, A Beginning

In the Other World Ancestors Still Talk

Other Thoughts on Other Things

Way Up North