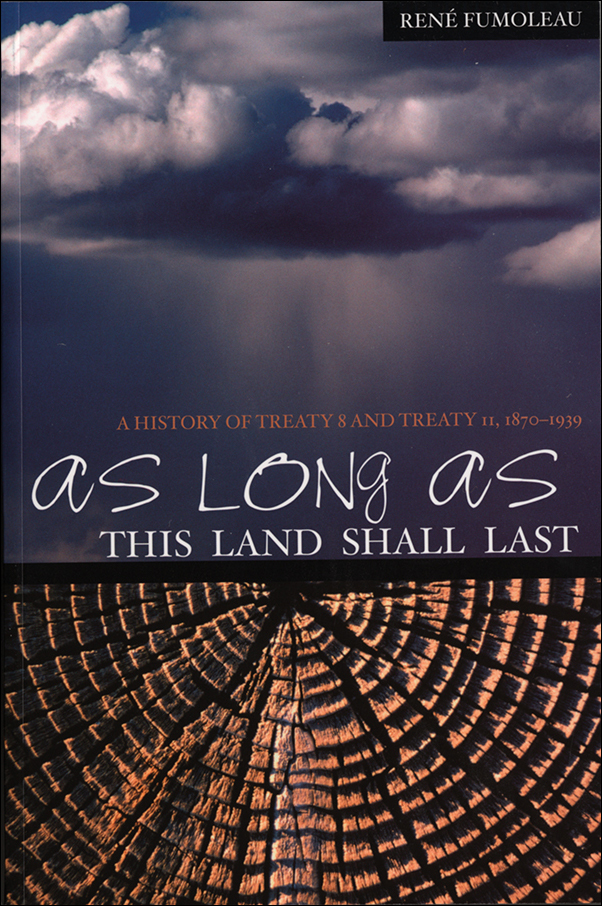 As Long As This Land Shall Last: A History of Treaty 8 and Treaty 11, 1870-1939
---
By Rene Fumoleau, With an Epilogue by Joanne Barnaby
$24.95 CAD / $28.95 USD (S)
586 pages, 41 illustrations
6 x 9 inches
978-1-55238-063-5 (Paperback)
978-1-55238-285-1 (Institutional PDF)
March 2004
About the Book
As Long As This Land Shall Last is a thorough document of Treaty 8 (1899-1900) and Treaty 11 (1921) between the Canadian Government and the Indigenous Peoples of Northern Alberta and the Northwest Territories. These treaties promised that the Indigenous Peoples who inhabited these places could live and hunt in freedom on their ancestral lands "as long as the sun rises from east to west, as long as the river flows downstream, as long as this land shall last."
Historian Réne Fumoleau has delved into church and government sources dating from 1870 to 1939 and compiled interviews with over seventy Dene witnesses to provide a clear picture of treaty negotiations and their aftermath.
Originally published in 1975, this new edition contains an afterword by Joanne Barnaby, Former Executive Director of the Dene Cultural Institute, outlining the significant cultural and political developments in the time since the book's first publication and paying special attention to their lasting implications for the future.
As Long As This Land Shall Last is an invaluable resource not only for Treaty scholars, but also a fascinating source document for those who wish to chart the evolution of Indigenous Studies in Canada.
René Fumoleau, a retired priest, produced the 1976 film I Was Born Here and directed Dene Nation in 1979. He has written two books of short stories and poems and has written for various newspapers and magazines in both French and English.
Joanne Barnaby has served as the executive director of the Dene Cultural Institute.
Table of Contents

List of Abbreviations
List of Maps
Foreword
Preface

Chapter 1: The Old Northwest Territories 1870–1895
Government, 1870–1880
New Transport Routes, 1868–1984 and a New Economy, 1888 ndash;1895
No Treaty—No Help, 1870–1889
The North is Floating on Oil, 1888–1891

Chapter II: Treaty 8, 1897–1700
Introduction
The Glitter of Gold Behind the Treaty, 1897–1899
North West Mounted Police Patrols, 1897–1899
Ottawa Prepares for the Treaty, 1897–1899
Treaty 8—Summers of 1899 and 1900
Treaty 8 Negotiations
Summary

Chapter III: The Years Between the Treaties, 1900–1920
Introduction
Following Treaty 8
Preparing Treaty 11
Summary

Chapter IV: Treaty 11
Introduction
Oil is King
The Territorial Administration Emerges
Ottawa Prepares the Treaty, 1920–1921
"Conspiracy of Silence"
Treaty 11
Summary

Conclusion

Chapter V: The Years after Treaty 11, 1922–1927
Introduction
Treaty 11, 1922
Trapping and Hunting, 1922–1929

Chapter VI: A Decade of Desperation, 1928–1939
Introduction

The Flu Epidemic of 1928
Problems for Both Governments
Metis and Eskimos
Pressure on Ottawa
Hunting and Trapping: The Critical Years, 1928–1939
Boycott at Fort Resolution, 1937
To Little, Too Late
Summary

Conclusion

Appendices
Dates relevant to Indian history and the treaties
Affidavits Signed by Witnesses to Treaties 8 and 11
Memorandum of Lawrence Vankoughnet, January 19, 1887
Testimony of Louis Norwegian, July 11, 1973
Article in The Edmonton Journal, Spetember 26, 1921
Bourget's Report, 1923
Eyewitness accounts of the 1928 flu epidemic
Extracts from Charles Parker's 1928 report
Extracts from Charles Parker's 1930 report
Memorandum of Bishop Breynat, November 1930

Canada's blacket blot, May 28, 1938
Excerpts from Bourget's 1930 report

Bibliography
Epilogue
Index