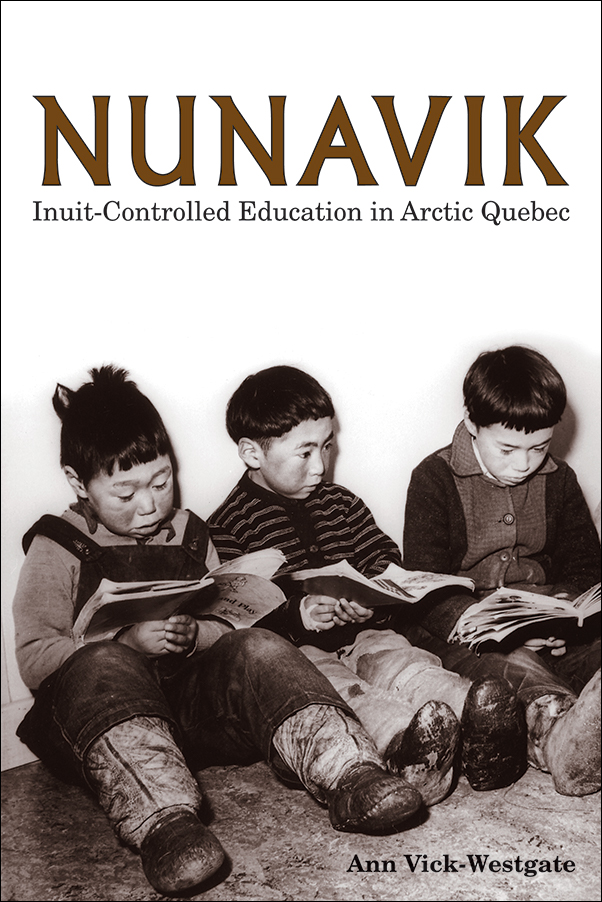 Nunavik: Inuit-Controlled Education in Arctic Quebec
---
Ann Vick-Westgate, With a Foreword by Zebedee Nungak
$39.95 CAD / $45.95 USD
357 pages, 59 illustrations
6 x 9 inches
978-1-55238-056-7 (Hardback)
978-1-55238-422-0 (Institutional PDF)
May 2002
About the Book
A detailed view of the complex debate of the Inuit of Northern Quebec about the purpose, achievements, and failures of the self-governed public schools in their communities, bringing together voices and perspectives across generations to provide a uniquely Indigenous perspective on school change in Indigenous communities.
In the pages of this book, you will read of the efforts of many to fearlessly audit the state of education in Nunavik. To diligently seek improvement of an already good system. To fix what is not necessarily broken so that those who come after us will have it even better than we did. The various tensions and differences of opinion are, to me, not contentious at all. The status quo, however good or excellent, is no place to stay. I think all recognize this. —Zebedee Nungak, from the Foreword
As a history of the development of self-government in education, Nunavik provides Indigenous perspectives on formal education in Nunavik while offering readers a unique view into contemporary Inuit society. This book documents the development of education from the arrival of the first traders and missionaries in the mid-nineteenth century through the creation of the Kativik School Board and the evaluation of its operations by the Nunavik Education Task Force in the 1990s.
Nunavik takes a detailed look at the complex debate of the Inuit of Northern Quebec about the purposes, achievements, and failures of the public schools in their communities, the first Inuit-controlled school district in Canada. Participants in these debates included elders who were educated traditionally, their children with a few years of education in mission and government schools, their grandchildren who attended southern high schools or residential schools, and current students and recent graduates of the Kativik schools. Qallunaat (non-Inuit) were also participants, as residents of Nunavik communities, parents of Inuit children, teachers, administrators, and expert consultants.
Illustrated with rich historical photographs (many in colour) and maps from the collections of the Avataq Cultural Institute and the Makivik Corporation, Nunavik provides a uniquely Indigenous perspective on school change in Indigenous communities.
About the Author
Ann Vick-Westgate has worked with Native peoples to develop and initiate educational programs in public schools that reflect their culture, traditions, and perspectives since 1970. She is interested in parental involvement and in self-government in education and in engaging students in collecting and publishing information about their communities and cultures.
Praise for Nunavik
A painstakingly detailed historical document, and a valuable learning resource for other communities around the world that are concerned about reclaiming their cultural identity.
—Ken Rodgers, Amazon
This is an important story, well told. The people of Nunavik were among the first Indigenous peoples in North America to gain control of their educational system. They were also among the last to have been affected by Western schooling, and consequently had living memories of Inuit ways of educating the young. Their approach to developing a new system began by reexaming basic assumptions about the purposes of education and the role it can play in raising children-and in strengthening a community's capacity for self-determination in all of its affairs. I hope in the next decade we will have many more stories to read such as this one from both Native and non-Native rural communities.
—Pat Hammer, director, ERIC Clearinghouse on Rural Education and Small Schools
Among the cultures of the world that I know, the one that is most concerned with their children is the Inuit. So, I can understand first attention of Nunavik self-government is devoted to the education of their children.
—Karla Jessen Williamson, executive director, Arctic Institute of North America
Table of Contents

Foreword
Zebedee Nungak

Introduction Chapter 1: Educational Change in an Arctic World
Chapter 2: A History of Nunavik
Chapter 3: traditional Education and European Impact
Chapter 4: The James Bay and Northern Quebec Agreement
Chapter 5: Kativik School Board: The First 10 Years
Chapter 6: Symposium 85 and Calls for Change
Chapter 7: Launching the Nunavik Educational Task Force
Chapter 8: The Communities Speak Out
Chapter 9: The Education Review Committee Takes Control
Chapter 10: Coming Together: The Task Force Response and the School Board Response
Chapter 11> Conclusion: Indigenous Models for Educational Change

Appendices
Bibliography
Index