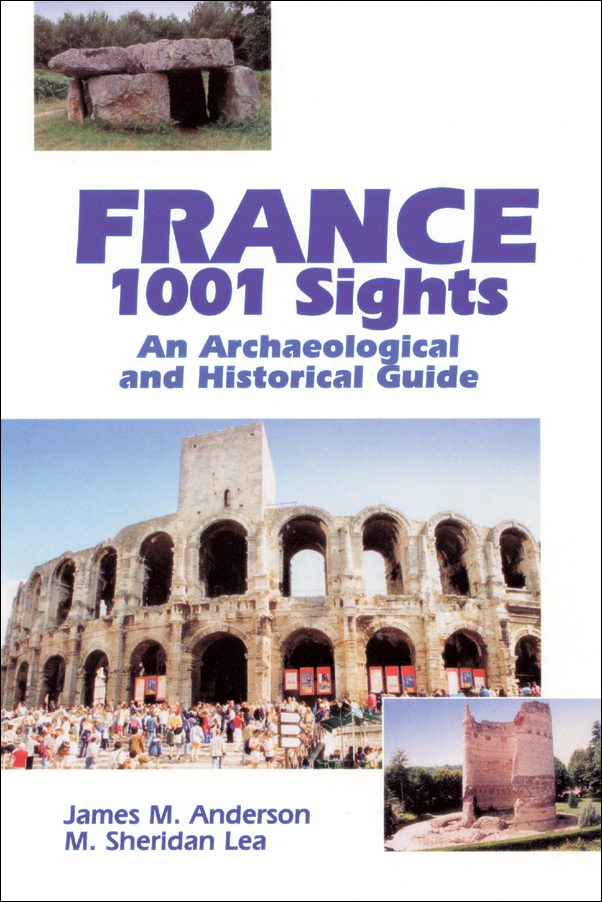 France, 1001 Sights: An Archaeological and Historical Guide
---
James M. Anderson and M. Sheridan Lea
$29.95 CAD / $34.95 USD (S)
215 pages, 93 illustrations
6 x 9 inches
978-1-55238-042-0 (Paperback)
978-1-55238-346-9 (Institutional PDF)
January 2002
About the Book
This distinctive historical and archaeological guidebook to France introduces the reader and traveller to the palpable remains of past cultures that shaped the development of the modern country. A chronological description of the important epochs, from the first appearance of humans in France down to medieval times, is followed by a portrayal of archaeological monuments and details of their exact location. These include prehistoric cave paintings, villages, necropoli, megaliths, Celtic forts and historic Roman and Gallo-Roman remains (including towns, temples, villas, bridges, roads, and aqueducts), early Christian churches, chapels and murals, as well as medieval structures, fortifications, and cemeteries. This book can be used as a field manual to readily find and explore France's ancient heritage or as a reference for those who cannot visit the sites but are interested in the legacy of the past.
James M. Andersonis professor emeritus at the University of Calgary. As a guide and resource person, Anderson has designed and accompanied numerous adult-education tours to European countries. He authored Spain: 1001 Sights and co-authored Portugal: 1001 Sights with M. Sheridan Lea, both for the University of Calgary Press.
M. Sheridan Lea has a B.A. in French and an M.A. in historical linguistics. She lived and worked in France for many years and brings a profound knowledge and love of the country to the pages of this book. She co-authored Portugal: 1001 Sights with James M. Anderson.
Praise for France, 1001 Sights:
If you are travelling to France and are interested in seeing archaeological sites I strongly recommend this book.
– Devin Trussell, Amazon
Table of Contents

Acknowledgements

Maps and Diagrams

Introduction

Geography
Mountains
Basins and Rivers
Regions

Part I: Historical Background

Appearance of Modern Humans in France
Lower Paleolithic Period
Middle Paleolithic Period
Upper Paleolithic Period
Cave Art

Mesolithic Period

Neolithic Period

Megalithic Monuments
Menhirs
Dolmans

Age of Metals: Copper and Bronze

Iron Age Peoples (Celts)
Gauls
Greeks, Phoenicians and Carthaginians
Iberians
Aquitanians and Basques

Roman and Gallo-Roman Period
Vercingetorix
Romanization
Towns
Villas
Roads, Bridges, and Aqueducts
Public Baths and Temples
The Roman Heritage

Early Christian Monuments

Germanic Invasions and the Early Middle Ages
Brittany (Bretagne) and Burgundy (Burgogne)

Franks, Merovingians, and Visgoths

Carolingians

Norsemen and the Foundation of Normandy (Normandie)

The Rise of France

Conclusion

Chronological Table

Part II; Sites and Sights
Alsace
Aquitaine
Auvergne
Bourgogne
Bretagne
Centre
Champagne-Ardenne
Franche-Comté
Ilse de France
Languedoc-Roussiloon
Limousin
Lorraine
Midi-Pyrén&eactue;es
Nord-Pas-de-Calais
Basse-Normandie
Haute-Normadie
Pays de la Loire
Picardie
Poitou-Charentes
Provence-Alpes-Cote d'AzurRhone-Alpes

Glossary
Colour photographs
Bibliography
Index