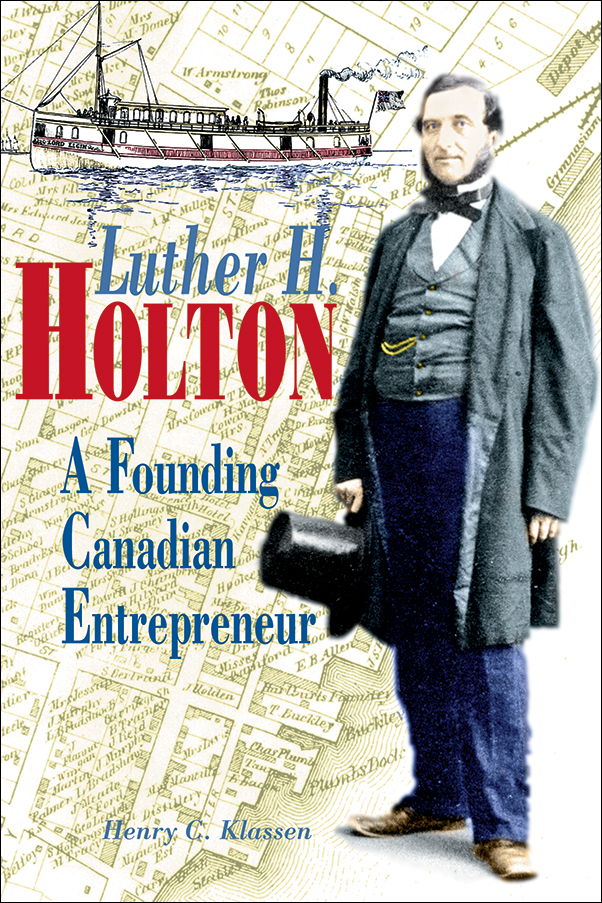 Luther H. Holton: A Founding Canadian Entrepreneur
---
Henry C. Klassen
$24.95 CAD / $28.95 USD
306 pages, 56 illustrations
6 x 9 inches
978-1-55238-027-7 (Paperback)
978-1-55238-394-0 (Institutional PDF)
April 2001
About the Book
Luther H. Holton was one of early Montreal's most remarkable citizens, rising from humble origins to become an extraordinary entrepreneur and influential politician who shared his visionary ideas with luminaries like Sir Wilfried Laurier.
With this book, Henry Klassen has made accessible the story of one of early Montreal's most remarkable citizens. Rising from humble origins, Luther H. Holton became an entrepreneur extraordinaire, with interests in real estate, railway building, steamboats, and banking.
From the success of his various business ventures, Holton moved easily into the world of politics. Originally opposed to the union of the British North American provinces, he became a firm supporter of confederation and helped launch Canadian constitutional policy in a direction that served and enhanced national purposes for the subsequent century and a half.
A staunch believer in creating opportunities for the Canadian national economy to develop and mature, Holton shared many of his visionary ideas with such luminaries as Sir Wilfrid Laurier. Readers will learn the connections in Holton's life between the power of entrepreneurship, the evolution of capitalist business, economic growth, and Canadian constitutional development.
Drawing from wide-ranging archival sources, many never before utilized, Henry Klassen has created a fascinating portrait of this little-known but extraordinary figure who played such a significant role in the shaping of Canada.
About the Author
Henry C. Klassen taught history for many years at the University of Calgary. His academic pursuits centred around the study of Canadian business and financial history. His book, A Business History of Alberta, was shortlisted for the Scholarly Book of the Year at the 2000 Alberta Book Awards.
Table of Contents

Preface
Acknowledgments
A Note on Currency
Illustrations

Work on the Harbourfront
In a Plain Office Down by the River Side
Developing Steamboat Services
Railway Builder
Keeping Up an Active Interest in Public Affairs
Minister of Finance
Continuing Challenge of Politics
Financing the Canada Engine Works
Savings Banker
Real Estate Entrepreneur

Notes
A Note on Sources
Bibliography
Index