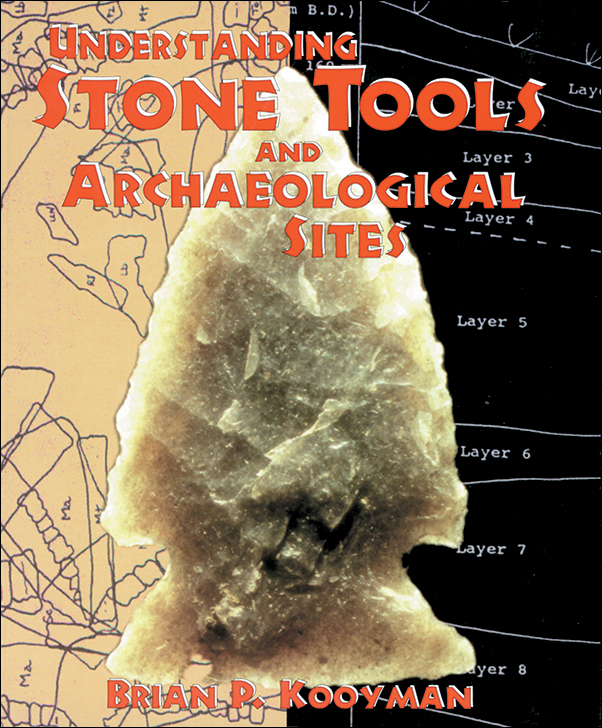 Understanding Stone Tools and Archaeological Sites
---
Brian P. Kooyman
$29.95 CAD / $29.95 USD
214 pages, 95 illustrations
978-1-55238-021-5 (Paperback)
978-1-55238-468-8 (Institutional PDF)
April 2000
About the Book
A CHOICE Outstanding Academic Title, this valuable volume of investigative archaeology focuses on stone tools, the artifacts produced by these tools, and the revealing debris left behind at sites where they were produced.
Understanding Stone Tools and Archaeological Sites provides a comprehensive study in archaeological lithic analysis, This concise, "hands-on" guide to practical exploration at stone tool sites will become required reading for those pursuing studies of any sort in prehistoric lithic artifacts.
The majority of study sites discussed are in western North America, including Alberta's own Head-Smashed-In Buffalo Jump, a World Heritage Site. Maps, illustrations, and photographs broadens the reader's understanding of deriving meaning and relevance in the study of stone tool technology.
About the Author
Brian Kooyman is a professor of archaeology at the University of Calgary.
Table of Contents

Introduction to Lithic Analysis

Early History of Lithic Studies

Manufacturing Techniques and Brittle Material Fracture Mechanics

Introduction
Manufacturing Techniques
Flaking
Techniques to produce stone tools by flaking
Breaking flake types
Fracture Mechanics
Fracture initiation and the Hertzian cone
Analysis Implementation

General Lithic Types

Introduction
Silicate Materials
Rocks
Igneous rock classification
Separating igneous rocks in hand specimen
Sedimentary rock classification
Metamorphic rocks
Analysis Implementation

Sourcing Lithic Materials

Introduction
Sourcing by Non-Chemical Methods: Some Examples
Chemical Sourcing
Main problems with chemical sourcing analysis
Analysis Implementation

Lithic Reduction Strategies and Techniques

Introduction
Concept Models
Reduction Stage Analysis
Reduction stages
Practical approaches to analysis
Determining platform boundaries and scar counts
Mass analysis
Ground Stone Tool Reduction Stage Analysis
Heat Treatment of Lithic Material
Analysis Implementation

Survey of Worldwide Lithic Technology

Introduction
Lower Paleolithic
Upper Paleolithic
Middle Paleolithic
Mesolithic and Neolithic

Introduction to the Study of Lithic Production Variables

Introduction
Manufacturing Techniques: Flintknappers' Experience
Controlled Scientific Experiments in Lithic Production Variables
Overall flake form
Other observations
Flintknappers' Replication Studies
Analysis Implementation

The Meaning of Form in Lithic Tools

Type of Form
Functional Tool Types
Fabricators
Reducation stage tools
Finished tool types: General
Finished tool types: Specific
Analysis Implementation

Northern Plains Stone Tool Cultural History

Introduction
Clovis
Goshen-Plainview
Folsom
Agate Basin
Hell Gap
Alberta
Cody Complex
Late Paleoindian Parallel-Oblique Complex
Mummy Cave/Early Plains Archaic
Oxbow
McKean
Pelican Lake
Besant/Sonata
Avonlea
Old Women's/Late Side Notched

Wide Applications of Lithic Analysis

Introduction
Site Type and Settlement Patterns
Intra-Site Patterning: Activity Areas
Refitting Analysis
Sourcing: Defining Contact, Exchange, and Material Transportation
Style and Technology
Summary

Lithic Usewear and Residue Analysis

Introduction
Historical Development Results
Microchipping
Micropolish
Striations
Residues
Analysis Implementation

Approaches to Analysis and Concluding Remarks

Glossary
References Cited
Index
Awards
SILVER, Alberta Book Awards - Scholarly Book of the Year | 2001
SELECTION, CHOICE Outstanding Academic Titles | 2000