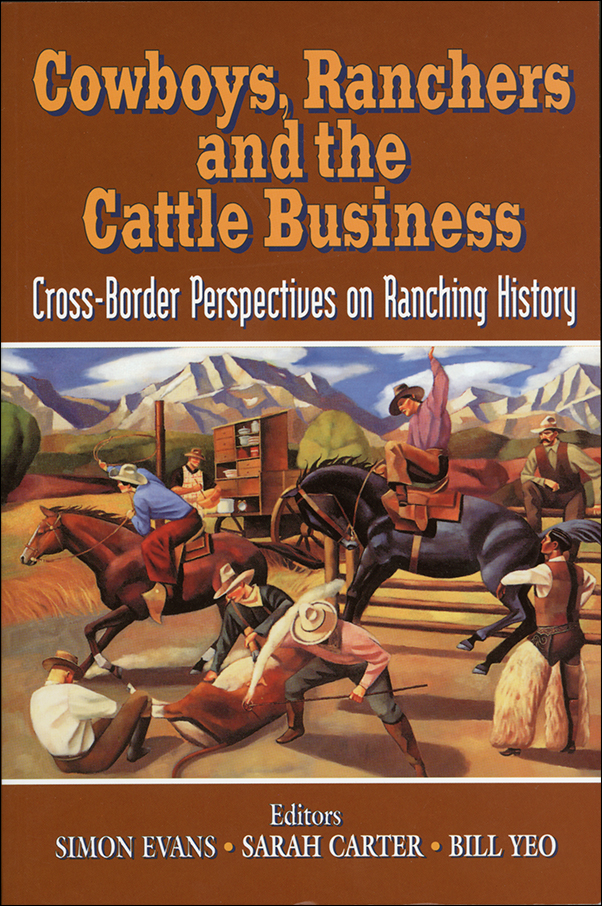 Cowboys, Ranchers and the Cattle Business: Cross-Border Perspectives on Ranching History
---
Edited by Simon M. Evans, Sarah Carter, and Bill Yeo
$29.95 CAD / $29.95 USD (S)
246 pages, 56 illustrations
6 x 9 inches
978-1-55238-019-2 (Paperback)
978-1-55238-319-3 (Institutional PDF)
May 2000
About the Book
Cowboys, Ranchers and the Cattle Business is an easily accessible and comprehensive summary of current studies on the Canadian ranching frontier. This collection of essays provides an excellent perspective on the latest developments in the historiography of the range, drawing from topics such as Wild West shows, artistic depictions of the cowboy, and the economic and practical aspects of early cattle ranching. The essays anthologized here fall into three general areas: the working cowboy, the performing cowboy and the imaginary cowboy. The academics, ranchers, poets and cowboys who authored them hail from backgrounds as diverse as history, geography, political science, and literature. Cowboys, Ranchers and the Cattle Business makes an important contribution to the study of the ranching frontier and will continue to be of value to researchers and readers of western history, plains studies, and historical geography.
Simon Evans is a former Professor of Geography at Memorial University of Newfoundland.
Sarah Carter teaches history at the Univerisity of Alberta.
Bill Yeo has retired from his position as Senior Historian and Chief of Historical and Archaeological Research for Parks Canada.
With Contributions By: Simon M. Evans, Terry G. Jordan-Bychov, Brian W. Dippie, Alan B. McCullough, Joy Oetelaar, Warren M. Elofson, Henry C. Klassen, Max Foran, Lorain Lounsberry, Richard W. Slatta, Sarah Carter, and Bill Yeo
Praise for Cowboys, Ranchers, and the Cattle Business:
Insights that deserve to be read and considered.
—Paul Voisey, Great Plains Quarterly
Table of Contents

Introduction

Simon M. Evans

Does the Border Matter? Cattle Ranching and the 49th Parallel

Terry G. Jordan-Bychov

Charles M. Russell, Cowboy Culture, and the Canadian Connection

Brian W. Dippie

Not an Old Cowhand—Fred Stimson and the Bar U Ranch

Alan B. McCullough

George Lane: From Cowboy to Cattle King

Joy Oetelaar

Tenderfoot to Rider: Learning "Cowboying" on the Canadian Ranching Frontier during the 1880s

Simon M. Evans

The Untaimed Canadian Ranching Frontier, 1874–1914

Warren M. Elofson

A Century of Ranching at the Rocking P and Bar S
Henry C. Klassen

The Impact of the Depression on the Grazing Lease Policy in Alberta

Max Foran

Wild West Shows and the Canadian West

Lorian Lounsberry

The Canadian Cowboy Exhibition

Richard W. Slatta

Postscript: "He Country in Pants" No Longer—Diversifying Ranching History

Sarah Carter

Postscript: Ranching History—Have We Covered the Ground Yet?

Bill Yeo

Selected Bibliography

Notes

Index