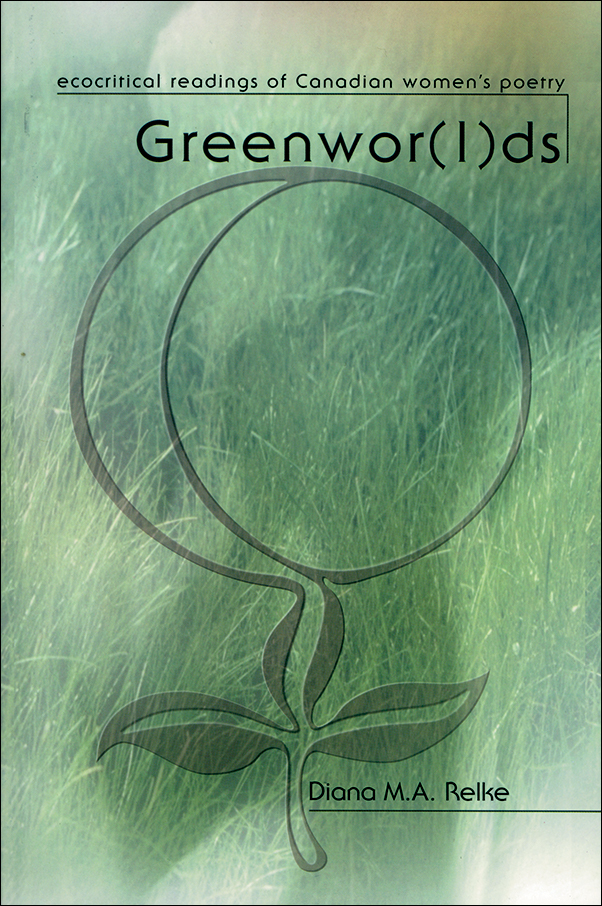 Greenwor(l)ds: Ecocritical Readings of Canadian Women's Poetry
---
Diana M. A. Relke
$24.95 CAD / $28.95 USD (S)
360 pages
6 x 9 inches
978-1-55238-017-8 (Paperback)
978-1-55238-358-2 (Institutional PDF)
November 1999
About the Book
Greenwor(l)ds rewrites the literary history of Canada from a feminist ecological perspective through a series of essays that examine the lives and work of nine women poets. Using insights from fields of knowledge as disparate as history and biology, physics and philosophy, psychoanalysis and communications studies, these essays reflect the transdisciplinary character of women's studies generally and feminist ecocriticism in particular.
Diana M.A. Relke is founding member and professor in the Department of Women's and Gender Studies at the Univerisity of Saskatchewan. An interdisciplinist, her scholarly work has appeared in numerous collections and journals spanning the disciplines, from English literature through psychology to gender and cultural studies.
Praise for Greenwor(l)ds: 
Greenwor(l)ds opens the door to a lively and important discussion of the place of ecocriticism in interpreting and recovering Canadian women's poetry.
—Anne Milne, Atlantis
Table of Contents

Preface

Introduction: A Literary History of Nature

1. A Poetic Consciousness

Double Voice, Single Vision: Ecopoetic Subjectivity and Margaret Atwood's The Journals of Susanna Moodie

Mother Nature, Daughter Culture: Marjorie PIckthall's Quest for Poetic Identity

Noble and Ignoble Savagery: Patriarchy and Primitivism in the Poetry of Constance Lindsay Skinner

2. Ecological Consiousness

The Task of Poetic Meditation: Revisiting Dorothy Livesay's Early Poetry

The Ecological Vision of Isabella Valency Crawford: A Reading of Malcom's Katie

"time is, the delta": Steveston in Historical and Ecological Context

3. Ecocritical Consciousness

Feminist Ecocritique as Forensic Archaeology: Digging in Critical Graveyards and Phyllis Webb's Garden

Tracing the Terrestrial in the Early Work of P.K. Page: A Feminist Psychoanalytic Ecoreading

Confronting the Green Indian: Aboriginal Poetry and Canadian Literary Tradition

Recovering the Body, Reclaiming the Land: Marilyn Dumont's Halfbreed Poetic

Afterward: Does Nature Matter?

Endnotes

Works Cited

Index

About the Author