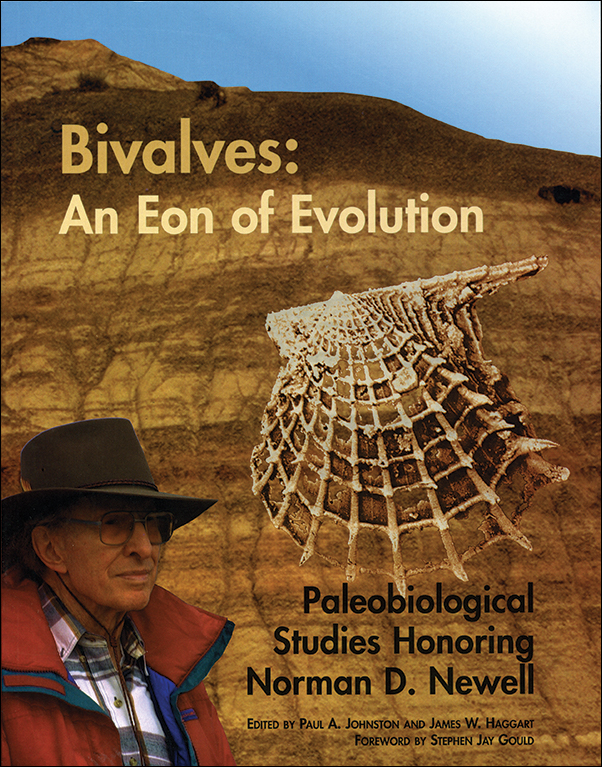 Bivalves: An Eon of Evolution
---
Edited by Paul Johnston and James W. Haggart, With a Forward by Stephen Jay Gould
$44.95 CAD / $51.95 USD (S)
475 pages, 270 illustrations
8.5 x 11 inches
978-1-55238-004-8 (Paperback)
November 1998
About the Book
A broad spectrum of current research on fossils and living bivalves dedicated to Dr. Norman D. Newell and featuring a forward by renound paleobiologist Stephen Jay Gould.
Since their origin in the Early Cambrian, the bivalve molluscs have evolved a remarkable variety of forms that reflect their diverse habits through the Phanerozoic Eon.
The thirty papers in this volume represent the proceedings of an international symposium on the paleobiology and evolution of the bivalves held at the Royal Tyrrell Museum of Paleontology in Drumheller, Canada, from September 29 through October 2, 1995. An international group of authors, representing a dozen countries, draw on diverse aspects of both fossil and living bivalves, including their forms, functional morphology, morphogenesis, taphonomy, shell microstructure, cladistic relationships, biostratigraphic distributions, and molecular sequences.
The result is an authoritative and comprehensive collection of studies dedicated to Dr. Norman D. Newell, an eminent paleontologist whose ongoing contributions to the study of bivalve evolution spans six decades. With more than 200 illustrations and a foreword by renowned paleobiologist and author Stephen Jay Gould, Bivalves: An Eon of Evolution presents a broad spectrum of current research on fossil and living bivalves.
About the Editors:
Paul Johnson; is an associate professor in the Department of Earth and Environmental Sciences at Mount Royal University. 
James W. Haggart is an adjunct professor in the Department of Earth, Oceans and Atmospheric Sciences at the University of British Columbia. 
With Contributions By: Stephen Jay Gould, Paul A. Johnston, James W. Haggart, Thomas R. Waller, M. Aberhan, M. Hrudka, T.P. Poulton, Michael R.W. Amler, L.E. Anelli, M.G. Smiōes, A.C. Rocha-Campos, David C. Campbell, Kateri J. Hoekstra, Joseph G. Carter, Raymond Seed, Christopher J. Collom, Susana E. Damborena, Leslie S. Eliuk, Fang Zongjie, R.C. Frey, M.E. Frischer, J. Williams, E. Kenchington, Steven C. Good, S. Gordillo, Gou Zonghai, Shin He, Gu Zhiwei, Guo Fuxiang, Wayne M. Haglund, Mary Ellen Harte, Joseph H. Hartman, Paul A. Johnston, Zhang Renjie, Yasu Kondo, N. Malchus, Teresa M. Sánchez, Claude Babin, Enrico Savazzi, Adolf Seilacher, V.V. Silantiev, and L.E. Anelli 
Praise for Bivalves:
There is much in the book that provides interesting reading . . . I recommend this volume to bivalve workers whether palaeontologically or neontologically inclined.
—John CW Cope, PALAIOS
Table of Contents

 

Foreward–Honoring a Great Career in Progress
Stephen Jay Gould

Preface
Paul A. Johnston and James W. Haggart

Acknowledgement

Origin of the Molluscan Class Bivalvia and a Phylogeny of Major Groups
Thomas R. Waller

Lower Jurassic and Aalenian Bivalve Ranges of Western and Northern Canada
M. Aberhan, M. Hrudka, T.P. Poulton

Early Carboniferous Bivalves of t he Central European Culm Facies
Michael R.W. Amler

Mode of Life of Some Brazilian Late Paleozoic Anomalodesmatans
L.E. Anelli, M.G. Simoes, A.C. Rocha–Campos

18S Ribosomal DNA and Evolutionary Relationship within the Bivalvia
David C. Campbell, Kateri J. Hoekstra, and Joesph G. Carte

Thermal Potentiation and Mineralogical Evolution in Mytilus (Bivalvia)
Joseph G. Carter, Raymond Seed

Taxonomy, Biostratigraphy, and Phylogeny of the Upper Cretaceous Bivalve Cremnoceramus (Inoceramidae) in the Western Interior of Canada and the United States
Susana E. Dambroenea

The Bipolar Bivalve Koymonectesin South America and the Diversity of Propeamussiidae in Mesozoic Times
Susana E. Damborenea

Big Bivalves, Algae, and the Nutrient Poisoning of Reefs: A Tabulation with Examples from the Devonian and Jurassic of Canada
Leslie S. Eliuk

Revision and Taxonomic Position of the Aberrant Devonian Bivalve Beichuania
Fang Zongjie

The Pseudocolpomya Fauna: A Recurrent Shallow Marine Bivalve Assembling from Upper Ordovician of the Cincinnati Arch Region of Kentucky, Indiana, and Ohio
R.C. Frey

A Molecular Phylogeny of Some Major Groups of Pectinidae Inferred from 18S rRNA gene Sequences
M.E. Frischer, J. Williams, E. Kenchington

Freshwater Bivalve Fauna of the Late Triassic (Carnian–Norian) Chinle, Dockum, and Dolores Formations of the Southwest United States
Steven C. Good

Trophonid Gastropod Predation on Recent Bivalves from the Magellanic Region
S. Gordillo

Rudists (Bivalvia) from the Cretaceous of Tibet, China, with Descriptions of New Species
Gou Zonghai, Shi He

Evolutionary Trends in Non–Marine Cretaceous Bivalves of Northeast China
Cu Zhiwei

Origin and Phylogeny of the Trigonioidoidea (Non–Marine Cretaceous Bivalves)
Gu Zhiwei

Sinonaiine, a new Subfamily of Asian Non-Marie Cretaceous Bivalves
Guo Fuxiang

Ecophenotypes of the Late Cretaceous Oyster Crassotrea subtrigonalis (Evans and Shumard, 1857), Central Alberta, Canada
Wayne M. Haglund

The Biostratigraphy and Paleontology of Latest Cretaceous and Paleocene Freshwater Bivalves from the Western Williston Bason, Montana, USA
Joseph H. Hartman

The Bivalve Heresies—Inoceramidae are Cryptodonta, not Pteriomorphia
Paul A. Johnston, Christoper J. Collom

Re–interpretation of Sinodora Pojeta and Zhang, 1984 an Unusual Bivalve (Trigonioida) from the Dvonian of China
Paul A. Johnson, Shang Renjie

Adaptive Strategies of Suspension-Feeding, Soft-Bottom Infaunal Bivalves to Physical Disturbance: Evidence from Fossil Preservation
Yasu Kondo

Multiple Parallel Evolution and Phylogenetic Significance of Shell Chambers and Chomata in the Ostreoidea (Bivalvia
N. Malchus

The Origin of Actinodont from Taxodont Detention or Vice Versa: An Unnecessary Controversy?
Teresa M. Sanchez, Claude Babin

Constructional Morphology of the Bivalve Pedum
Enrico Savazzi

Rudists as Bivalvian Dinosaurs
Adolf Seilacher

New Data on the Upper Permian Non-Marine Bivalve Palaeomutela in European Russia
V.V. Silantiev

Paleoeocology and Evolution of Permian Bivalve (Paraná Basin) In Brazil
M.G. Simoes, A.C. Rocha-Camps, L.E. Anelli

Index