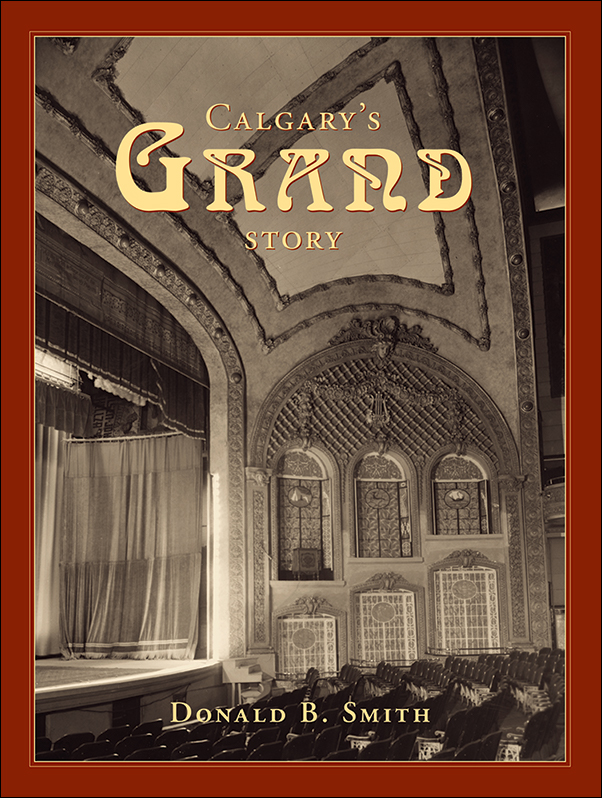 Calgary's Grand Story
---
Donald B. Smith
$39.95 CAD / $45.95 USD (S)
368 pages, 181 illustrations
11 x 8.5 inches
978-1-55238-174-8 (Paperback)
978-1-55238-301-8 (Institutional PDF)
September 2005
About the Book
Discover the history of downtown Calgary and the personalities and events that shaped the city in this richly illustrated history of the Grand Theatre and Lougheed building from their 1912 erection to near-destruction by fire in 2004 and subsequent restoration.
Calgary was a boomtown of 50,000 people in 1912, the year the Lougheed Building and the adjacent Grand Theatre were built. The fanfare and anticipation surrounding their opening marked the beginning of a golden era in the city's history. The Lougheed quickly became Calgary's premier corporate address, and the state-of-the-art Grand Theatre the hub of a thriving cultural community.
Through the great days of Vaudeville and classic cinema, through the Depression, two world wars, and the oil and gas boom, the Lougheed and the Grand were cornerstones of downtown Calgary. As the city grew up around them, questions about their future arose. Did they still have a place in this new metropolis of shiny glass and steel? After they were nearly destroyed by fire in 2004, the push to restore and revitalize the buildings gained new momentum.
From the viewpoint of these two prominent heritage buildings, Donald Smith introduces the reader to the personalities and events that helped shape Calgary in the twentieth century. Complemented by over 140 historical images, Calgary's Grand Story is a fascinating tribute to the Lougheed and the Grand and celebrates their unrivaled position in the city's political, economic, and cultural history.
About the Author:
Donald B. Smith is professor emeritus of history at the University of Calgary. He has written extensively on Native history, as well as the history of Alberta and Calgary.
Praise for Calgary's Grand Story:
One of the Calgary Public Library's Top Ten Books on Calgary History
Telling the story of Calgary through the lives of the people associated with the Lougheed Building and the Grand Theatre gives the book broad, popular appeal. Smith's storytelling is, however, based on a wide knowledge of Western Canadian history and careful research.
—Carol Budnick, Canadian Historical Review
Table of Contents

Acknowledgements
Introduction

Chapter 1. Opening Night! February 5, 1912
Chapter 2. James Lougheed: His Story
Chapter 3. Belle Lougheed: Her Story
Chapter 4. Neighbours: Alfred Terill and Paddy Nolan
Chapter 5. Construction of the Lougheed and the Sherman Grand
Chapter 6. W.J. Tregillus: The Prime Tennant
Chapter 7. Fred Albright: From Calgary to Passchendaele
Chapter 8. Jeff Lydiatt: The Grand in the Great War
Chapter 9. An Albertian Political Revolution, 1921
Chapter 10. Sir James at the Top and After
Chapter 11. The Grand Transition
Chapter 12. The Barronial Eria, 1937–1969
Chapter 13. Modern Times: The 1960s to 2005

Appendicies
A Note on Sources
A Short Bibliograph
Notes
Index
Awards
WINNER, Calgary Heritage Authority Lion Award - Publication, Education, Scholarship and Exhibits | 2006
WINNER, BPAA Alberta Book Publishing Awards - Scholarly Book | 2006