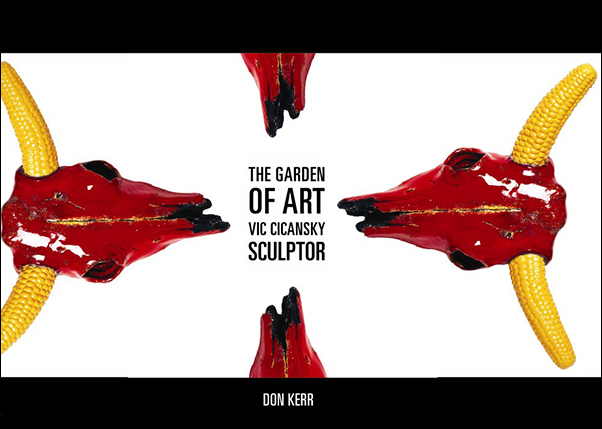 The Garden of Art: Vic Cicansky, Sculptor
---
Don Kerr
$29.95 CAD / $34.95 USD (S)
168 pages, 70 illustrations
10 x 7 inches
978-1-55238-122-9 (Paperback)
978-1-55238-352-0 (Institutional PDF)
Art in Profile: Canadian Art and Architecture
October 2004
About the Book
Elegant, surreal, erotic, ecological, autobiographical, perpetual, populist, comic! These are the words that describe the work of noted Regina sculptor Victor Cicansky. The book celebrates the voice, life, and art of this prolific prairie-based artist. Nature, tamed or wild, informs everything he makes; worlds we recognize with pleasure, where cabbages are kings. This book is written in a style that is informed by, yet not overburdened with, critical analysis, allowing the art to speak for itself.
Don Kerr is professor emeritus of English at the University of Saskatchewan and the poet laureate of Saskatchewan (2012). His strong sense of regionalism influences his interpretation of Victor Cicansky's work, in which he makes connections between the work and the artist's ethnic immigrant agrarian roots.
Praise for The Garden of Art:
Kerr's writing is descriptive and light . . . The book is consequently accessible and enjoyable to a reader with any level of visual art background.
—Ruth Chambers, Great Plains Quarterly
This generously illustrated publication serves as an introduction to Cicansky's humorous and offbeat works of art.
—CHOICE Reviews
Table of Contents

Victor Cicansky, Prologue

1. Vic at Work
A Basic Chronology

2. Vic at Work
Childhood
Vic the Early Artist
Davis
September 24, 2001—A Day in the Life
Origins
Reputation

3. Vic at Work
Public Works
April 7–8 2002—A Day in the Life
Politics

4. Vic at Work
Analysis
The Future
Notes
Works
List of Works
Solo Exhibitions
Awards
WINNER, Saskatoon Book Awards - Saskatchewan Book Award | 2005
WINNER, BPAA Alberta Publishing Award for Cover Design | 2005
SHORTLISTED BPAA Alberta Publishing Award for Book Design | 2005