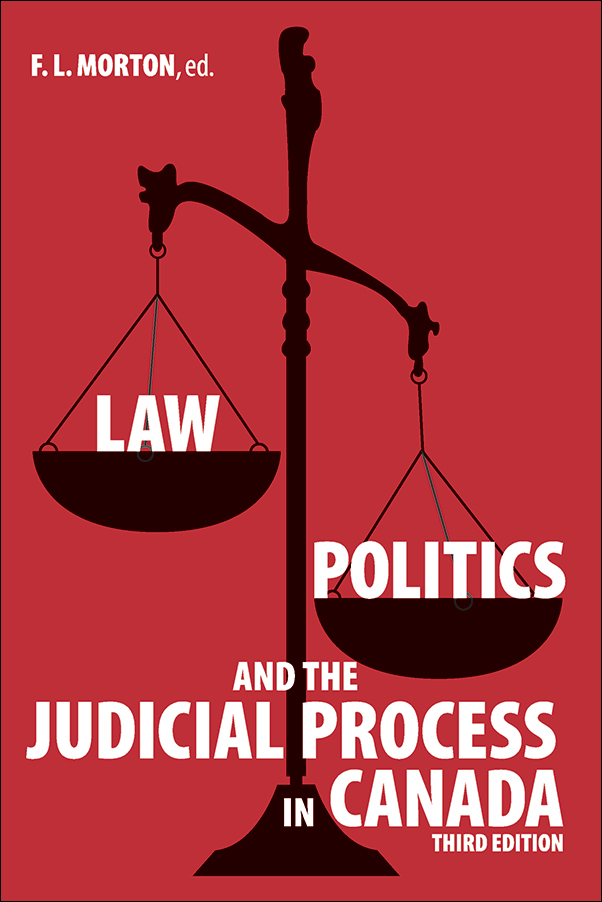 Law, Politics and the Judicial Process in Canada, 3rd Edition
---
Edited by Frederick L. Morton
$44.95 CAD / $51.95 USD (S)
671 pages, 40 illustrations
6 x 9 inches
978-1-55238-046-8 (Paperback)
978-1-55238-382-7 (Institutional PDF)
August 2002
About the Book
The third edition of this popular text, first published in 1984, features a new introduction and new readings adressing current issues in Canadian law and politics.
Since the first edition of this popular textbook appeared in 1984, the Charter of Rights and Freedoms has transformed the role of the courts in Canadian politics. The book introduces students to issues raised by the new political role of Canadian judges. The revised and updated third edition features new introductions and new readings that deal with current issues in the realm of Canadian law and politics.
About the Author
Frederick Lee Morton is Minister of Energy in the Alberta legislature.
Praise for Law, Politics, and the Judicial Process in Canada
Excellent and Stimulating . . . contains a full treatment of internal Canadian issues.
—Albert Kiralfy, The International and Comparative Law Quarterly (on the first edition)
A useful and comfortable introduction to Canadian jurisprudence and scholarship.
—Osgoode Hall Law Journal (on the first edition)
This collection of materials, and the explanatory notes that bind it together, constitute a welcome addition to Canadian law teaching materials.
—J.M. MacIntyre, Canadian Bar Review (on the first edition)
Law, Politics, and the Judicial Process in Canada is a collection of readings for a course dealing with the judicial process. As a 'coursebook' it is in essence a portable library . . . at the beginning of each chapter there is an introductory note by the editor. These are well written and add to the readings, rather than mealy introduce them. A pioneer in its field.
—S.I Bushnell, Canadian Public Policy (on the first edition)
Table of Contents

Preface

Section 1: The Rule of Law in the Canadian Constitution
Roncarelli v. Duplessis
John Locke, "Off the Extent of the Legislative Power"
Thomas Jefferson, "The Declaration of Independence"
A.V.C. Dicey, "The Rule of Law"
W.R. Lederman, "The Independence of the Judiciary"*
Thomas M.J. Bateman, "Liberal versus Post-Liberal Constitutionalism: Applying the Charter to Civil Society"
Key Terms

Section 2: Political Jurisprudence
Paul Weiler, "Two Models of Judicial Decision-Making"
Harrison v. Carswell
Michael Mandel, "Re Constitution of Canada, 1981: The Patriation Reference"
Reference re the Secession of Quebec
Justice Bertha Wilson, "Will Women Judges Really Make a Difference"*
Candance C. White, "Gender Differences on the Supreme Court"
Key Terms

Section 3: The Canadian Judicial System
Chief Justice Bora Laskin, "The Role and Functions of Final Appellate Courts: The Supreme Court of Canada"
Constitution Act, 1867, Sections 96-101
The Canadian Judicial System
The Criminal and Civil Court Processes
Key Terms

Section 4: Judicial Recruitment and Selection
Jeffry Simpson, "Patronage in Judicial Appointments"
Sir Robert Megarry, "Judicial Appointments in Great Britain"
Peter H. Russell and Jacob S. Ziegel, "Mulroney's Judicial Appointments and the New Judicial Advisory Committees"
Justice Bertha Wilson, "Will Woman Judges Really Make a Difference"
Rob Martin,"A 'Gender Patronage' for Judges?"
F.L. Morton, "To Bring Judicial Appointments Out of The Closet"
William Thorsell, "What to Look For, and Guard Against, in a Supreme Court Judges"
Jacob S. Zigel, "Merit Selection and Democratization of Appointments in the Supreme Court of Canada"
Key Terms

Section 5: Judicial Independence, Ethics, and Discipline
WR. Lederman, "The Independence of the Judiciary"
The Berger Affair
Chief Justice Bora Laskin, "The Meaning and Scope of Judicial Independence"
The McClung Affair
F.L. Morton, "L'Heureux-Dube Crosses the Line"
Reference re Remuneration of Judges of the Provincial Court (P.E.I)
Ian Greene et al., "Judicial Independence: The Views of the Appellate Judges"
Conor A. Gearty, "What Are Judges For?"
Key Terms

Section 6: Access to Judicial Power
Barry Strayer, "Constitutional References"
Minister of Justice of Canada v. Borowski
Borowski . Attorney-General of Canada
Alan Borovoy, "Interventions and the Public Interest"
Ian Brodie, Intervenors, and the Charter
Roy B. Flemming, "Agenda Setting: The Selection of Cases for Judicial Review in the Supreme Court of Canada"*
Key Terms

Section 7: Interest Groups and Litigation
Canadian Advisory Council on the Status of Women, "Equality Rights and Legal Action"
Sherene Razack, "The Women's Legal Education and Action Fund"
Ian Brodie, "The Court Challenges Program"
Christopher P. Manfredi, "Constitutional Rights and Interest Advocacy: Litigating Education Reform in Canada and the United States"
Gregory Hein, "Interest Group Litigation and Canadian Democracy"
Ian Brodie, "Response to Gregory Hein"
Key Terms

Section 8: Fact Finding in the Courts
Donald C. Horowitz, "Fact Finding in Adjudication"
Carl Baar, "Social Facts, Court Delay, and the Charter"
Peter H. Russell, "The Anti-Inflation Case: The Anatomy of a Constitutional Decision"*
Key Terms

Section 9: Precedents, Statutes, and Legal Reasoning
G. Gordon Post, "Stare Decisis: The Use of Precedents"
A.V.C Dicey, "The Duty of a Court"
Paul Weilier, "Architect of the Common Law"
Boucher v. The King
David Greener, "The Transformative Power of the Legal Narrative"
Troy Riddell, "The Influence of Legal Commentary on Judicial Interpretation of the Charter"
Key Terms

Section 10: Judicial Review and Federalism
Jennifer Smith, "The origins of Judicial Review in Canada"
Lord Sankey, "The 'Living Tree' Approach to Interpreting the BNA Act"
Lord Atkin, "The 'Watertight Compartments' Approach to Interpreting the BNA Act"
Peter H Russell, "The Anti-Inflection Case: The Anatomy of a Constitutional Decision"
Patrick Monahan, "Does Federalism Review Matter?"
Michael Mandel, "Re Constitution of Canada, 1981: The Patriation Reference"*
Reference re the Secession of Quebec*
Key Terms

Section 11: Judicial Review and Civil Liberties
John Locke, "Of the Extent of Legislative Power"*
A.V.C. Dicey, "The Rule of Law"
Roncarelli v. Duplessis*
Boucher v. The King*
James B. Kelly, "The Supreme Court of Canada's Charter of Rights Decisions, 1982-1999: A Statistical Analysis"
Thomas M.J. Bateman, "A Liberal versus Post-liberal Constitutionalism: Applying the Charter to Civil Society"*
Charles Epp, "Do Bills of Rights Matter"
Gregory Hein, "Interest Group Litigation and Canadian Democracy"*
Key Terms

Section 12: Judicial Decision Making
Justice Bertha Wilson, "Decision-making in the Supreme Court of Canada"
Roy B. Flemming, "Agenda Setting: The Selection of Cases for Judicial Review in the Supreme Court of Canada"
F.L. Morton and Rainer Knopff, "The Role of Clerks in the Supreme Court of Canada"
James B. Kelly, "Judging the Judges: The Decline of Dissent in the Supreme Court's Charter Decisions"
Key Terms

Section 13: Reconciling Judicial Review and Constitutional Democracy
Donald Smiley, "Courts, Legislatures, and the Protection of Human Rights"
John D. Whyte, "On Not Standing Up for Notwithstanding"
Peter H. Russell, "Standing Up for Notwithstanding"
Scott Reid, "A Better Way of Saying 'Notwithstanding'"
Greogry Hein, "Interest Group Litigation and Canadian Democracy"*
Ian Greene et al., "Judicial Independence: The Views of Appellate Judges"*
Dialogue or Monologue? Hogg versus Morton
Justice Claire L'Heureux-Dube, "Judicial Independence and Judicial Activism"
Chief Justice Beverley McLachlin, "Courts, Legislatures, and Executives in the Post-Charter Era"
Key Terms

Appendices
A – Constitution Act, 1867, ss 91-95, 133
B – Canadian Bill of Rights, 1960
C – Constitution Act, 1982
D – Chief Justices of the Supreme Court of Canada
E – Puisne Justices of the Supreme Court of Canada
F – Useful Websites

Index